This homemade beefaroni recipe is a fresher, healthier version of the classic canned variety. Kids and adults alike will love this for lunch or dinner!
Jump to Recipe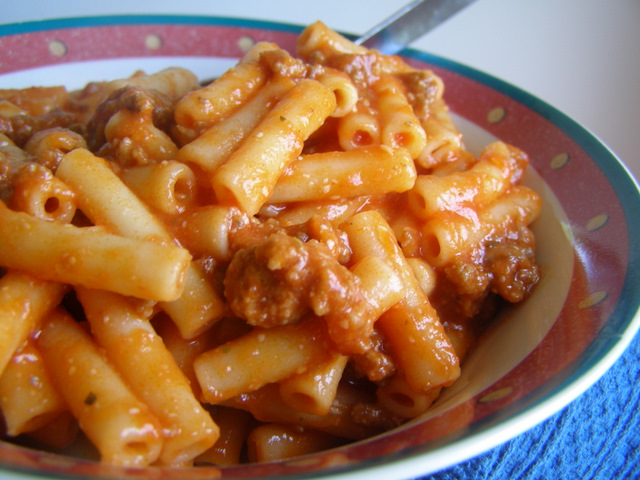 Maybe you remember it from your childhood. Maybe you serve it up to your kids on the regular. Whatever the case, canned beefaroni is likely a snack/meal you are familiar with.
This homemade version tastes nearly identical to the canned version without any of the chemicals or non-pronounceable additions. It's healthier yet still delicious. Kids and adults alike recognize the familiar, well-loved taste. Plus, you can whip this recipe together in just about 15 minutes, start to finish. What's not to love?
Can I freeze Homemade Beefaroni?
This recipe is absolutely freezer friendly! There are 2 freezing options you can use:
Prepare completely and freeze the finished dish all together or in individual-sized servings. I like to freeze homemade beefaroni in 1 to 2 cup servings in individual freezer bags. This is a great option for the kids to warm up for a quick meal.
Prepare just the sauce portion, freeze that and then serve with fresh noodles. This is a good option if you are not a fan of the texture of frozen-and-reheated pasta.
Since this dish is so easy to make, I definitely recommend you double or even triple the recipe if you're planning to freeze it. You'll add hardly any extra work.
You can also use this same sauce base for different varieties of other classic canned pastas. For example, slice up a few hot dogs in place of the ground beef and use circular pasta for a homemade version spaghetti-o's with franks.
Can I make this a one dish meal?
I love the convenience of cooking pasta with the rest of the dish and only getting one pot dirty. I also really like the texture of the noodles when they're cooked that way.
However, I've found that that treatment doesn't work so well with this recipe. That's because you need to add a few extra cups of water in order cook the noodles and that alters the taste too much. So I don't recommend it.
If you decide to try it and come up with a method that turns out really well, please let me know as I'd love to give it a shot!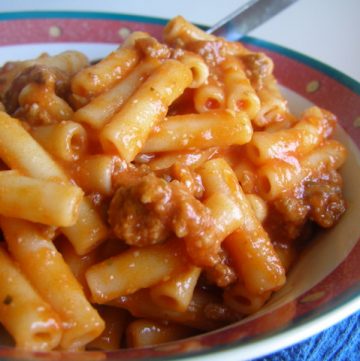 Homemade Beefaroni
This homemade beefaroni recipe is a fresher, healthier version of the classic canned variety. Kids and adults alike will love this for lunch or dinner!
Ingredients
1

pound

Ground beef

2

14.5 oz.

Cans tomato sauce

1/2

cup

Grated Parmesan cheese

1/4

cup

Water

1

Tablespoon

Sugar

1

teaspoon

Salt

1/2

teaspoon

Italian seasoning

1/2

teaspoon

Garlic powder

1/4

teaspoon

Black pepper

1

pound

Cooked pasta

(any shape works, but if you can find small ziti noodles, those will be closest in looks to the original canned Beefaroni)
Instructions
Brown ground beef in a sauce pan and drain.

Stir in remaining ingredients, except the pasta. Simmer for about 10 minutes, to let the flavors combine.

Stir in the pasta until coated. Enjoy!
Notes
You can freeze this with or without the noodles, depending on your preference. See notes above.
Use any shape of noodles that you'd like. I use elbow macaroni most frequently, but I really like to use small ziti whenever I can find it because it most closely resembles to original.