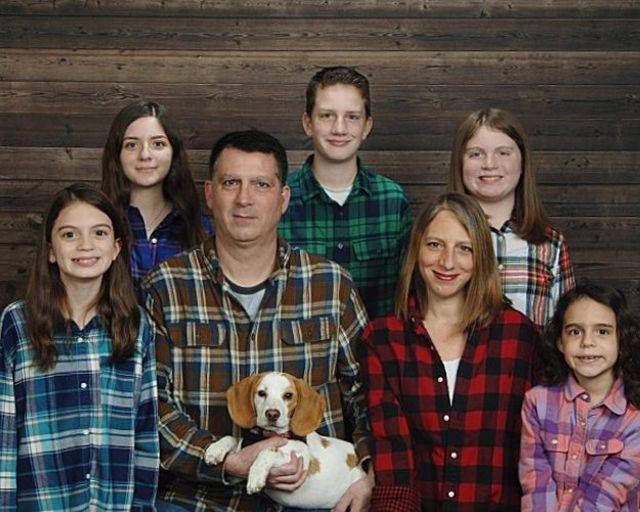 Welcome to Cooking During Stolen Moments!
My name is Kate Miller and I'm a work-at-home mom to 5 kids and wife to one wonderful man. Our kids are 20, 15, 14, 12 and 9. We also have two of the best doggies in the world – Bailey and Cooper.
In the world of blogging, this site is a bit of a relic. It's been online since 2008, although originally hosted on a different URL!
I've personally been blogging since 2004. I started blogging to chronicle our lives when we were in the throes of new babies, homeschooling days, and frugal living. Our lives have evolved a TON since then. (Check out how I originally described this site below.)
Life these days looks drastically different from the life we were living when I wrote the original "About" page that you see below. Our oldest is currently a sophomore in college and she's only at home about 3 weeks out of the year now. The other kids are always on the go – between friends, basketball, drama, cheerleading, band, fishing, soccer, etc., etc., there's always something going on. Not to mention their appetites. Man, can teenagers pack away the food!
I started freelancing shortly after our youngest child was born. We were able to "retire" my husband in 2012 and he's been home with me ever since and helping me run our successful freelance business.
Being a busy, working mom means I need fast, family-friendly meals on the table every day. That's exactly the kinds of recipes you'll find here.
My recipes from Cooking During Stolen Moments have been featured all across the web, including Oprah.com, CNN, ABC News, Nickelodeon Parents Connect, Once A Month Meals, and hundreds of other sites. Additionally, over 100 of my recipes are featured in grocery store circulars, recipe cards, and newsletters across the country.
Thank you for visiting. I hope you find recipes here that your family will love for years to come.
Please feel free to reach out to me at any time if you have any questions. You can reach me via email at stolenmomentscooking@gmail.com.
---
Flashback time…
Original "About" content of Cooking During Stolen Moments:
The dinner rush hour used to be the bane of my existence. Hungry toddlers strapped to my leg…impatient older child…fussy baby…you know the drill. I knew I had to find a better way. So I fumbled and fought with my kitchen until I found a system that worked for me. I now take advantage of stolen moments throughout the day to prepare dinner and I have completely eliminated those dinner hour crazies.
I try to cook from scratch all the time, although there are those days when a convenience item or two are a necessity. (I am known to break my own rules at times.) However, canned cream of… has become a dirty word in our house.
Our monthly grocery budget is $400 (recently bumped up from the previous amount of $350 – these kids just keep getting bigger!) for the 6 of us. That total includes cleaning supplies, toilet paper and diapers. As a result, all of the recipes I post will be fairly budget-friendly.
I like to keep it real around here so I post the occasional (ahem) flop and failure.