Whether or not you're familiar with this Chicago-based restaurant, you will fall in love with this Portillo's Chopped Salad Recipe!
Jump to Recipe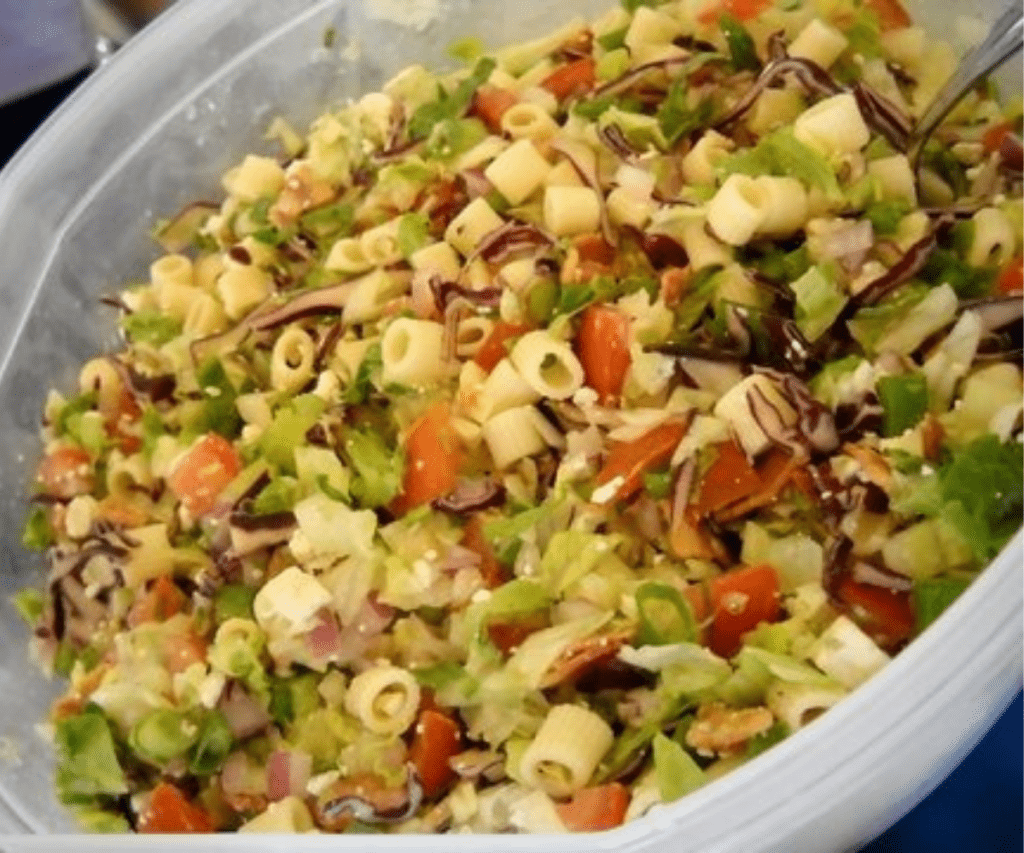 If you've ever been to the Chicago area, I bet you are familiar with Portillo's restaurant. (If you're from Chicago, I KNOW you are!) This amazing chain is world-famous for its hot dogs, beef sandwiches, chocolate cake, and this chopped salad.
This salad is packed full of flavors and fresh ingredients, and then it's topped off with a tangy yet sweet Italian vinaigrette dressing.
The traditional Portillo's salad contains chicken, but you can leave that out if you are making this salad as a side dish to a meat main, such as Chicken with Capers.
Trust me, you will be turning to this Portillo's Chopped Salad Recipe every time you go to or host a picnic, potluck, or party. It's perfect for all occasions and everyone loves it!
How to Make Chopped Salad from Portillo's
This really is a very easy salad together. The biggest thing to remember though is that it is a CHOPPED salad. That means you want to really chop each ingredient. You should be able to eat this salad with a spoon if you wanted to!
The salad begins with two types of lettuce – iceberg and Romaine. Those are chopped finely and added to a big bowl. Next, finely chop a small, cored head of red cabbage (or chop a bag of shredded red cabbage) and add to the bowl.
Next, top the lettuces and cabbage with finely chopped red onion, green onion and tomato.
Then you'll add the 3-4 ingredients that make this salad a true stand out – ditalini pasta, cubed chicken (if you are adding), crumbled bacon, and crumbled Gorgonzola cheese.
Once all of those ingredients are in the bowl, toss well and set aside while you make the Vinaigrette dressing.
For the dressing, you'll combine white wine vinegar, olive oil, garlic, honey, oregano, salt and pepper. Combine well and you're left with an amazingly delicious dressing.
Pour the dressing over the salad, toss to combine thoroughly, and enjoy!
Portillo's Chopped Salad Ingredients
Although the ingredients in this recipe might seem simple, they combine to make something truly magical.
The full ingredient list is:
Iceberg lettuce
Romaine lettuce
Red cabbage
Red onion
Green onions
Tomatoes
Ditalini pasta
Bacon
Gorgonzola cheese
Chicken (optional)
Homemade vinaigrette dressing
That's it!
Recipe FAQ
Do I have to add chicken to Portillo's chopped salad?
Although the chicken comes standard when you order the chopped salad at Portillo's, you can ask for it to be left out. Likewise you can do the same at home.
Where can I find ditalini pasta?
Ditalini is a small, open-ended, tube shape pasta. You should be able to find it in the pasta aisle of any grocery store. If you absolutely can not find it, you can replace with mini shell pasta or even elbow macaroni. Both of those shapes will change the texture of the salad slightly but not the taste.
Do I have to use a homemade vinaigrette?
You can sub a store-bought vinaigrette if needed. Make sure you get one that is a little sweet to most closely match that well-loved Portillo's flavor.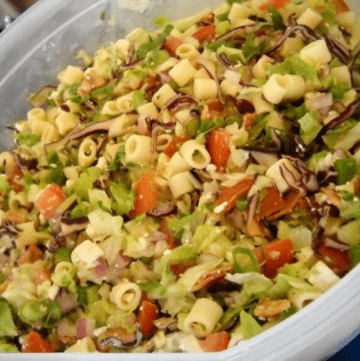 Portillo's Chopped Salad Recipe
Whether or not you're familiar with this Chicago-based restaurant, you will fall in love with this Portillo's Chopped Salad Recipe!
Ingredients
1

Head iceberg lettuce

1 – 2

Heads Romaine lettuce

(depending on size)

1

Small head red cabbage, minced or 1 bag sliced red cabbage

(chopped)

1

Small red onion

(finely minced)

1

Bunch green onions

(thinly sliced)

3

Tomatoes

(seeded and diced)

2

cups

Ditalini pasta

(cooked and cooled)

1

pound

Bacon

(cooked and crumbled)

1

cup

Gorgonzola cheese

(crumbled)
Homemade Vinaigrette Dressing
1/3

cup

Olive oil

1/3

cup

White wine or apple cider vinegar

2

cloves

Garlic

(finely minced)

2

teaspooons

Honey

1/2

teaspoon

Dried Italian Seasoning or Oregano

1/4

teaspoon

Salt

1/4

teaspoon

Black pepper
Instructions
Wash and dry the lettuces. Finely chop until the lettuce is in small pieces. Put in a large bowl.

Add remaining ingredients, except vinaigrette ingredients, and toss to combine well.

Combine all of the vinaigrette ingredients and whisk well.

Serve dressing along side the salad or pour on and combine just before serving.