Jump to Recipe
Try something different with this Artichoke Salsa recipe. It's a fun and tasty twist on the classic that makes a great appetizer or snack.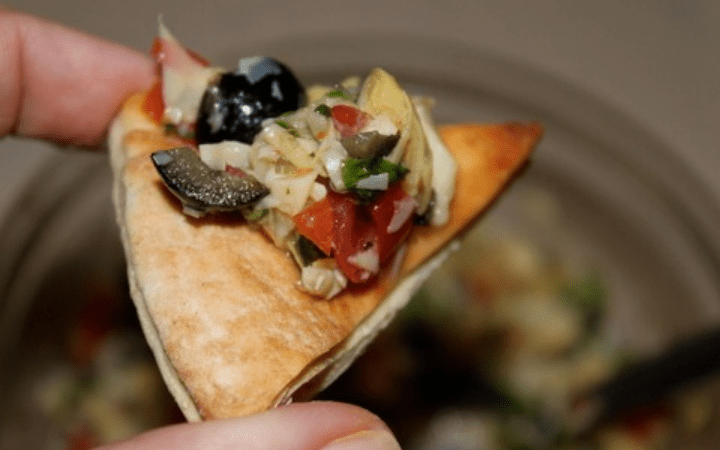 If you're looking to mix up your dip or appetizer game, you're in luck!
This recipe for artichoke salsa will be a hit whether you're entertaining or just grabbing a few chipfuls out of the fridge throughout the week.
The combination of tangy, marinated artichoke hearts, olives, tomatoes, garlic and basil will definitely wow your taste buds. It definitely qualifies as a unique recipe, but I guarantee you won't regret making it!
How to make Artichoke Salsa
You can throw this salsa together in just a few minutes.
First, gather all of your ingredients:
Marinated artichoke hearts
Black olives
Grape tomatoes
Garlic
Fresh basil
Crushed red pepper flakes
Salt and pepper
Reserve two tablespoons of the artichoke heart marinade and then drain the rest.
Next, coarsely chop the artichoke hearts, olive and tomatoes. You don't want them too big or too small, although it's better to err on the side of too small if you aren't sure. If you leave the pieces too big, it will be difficult to eat.
For this salsa, I like the rustic look of a rough chop instead of cutting everything uniformly. So, I just place the ingredients on a cutting board and then chop through them all together with a chef's knife.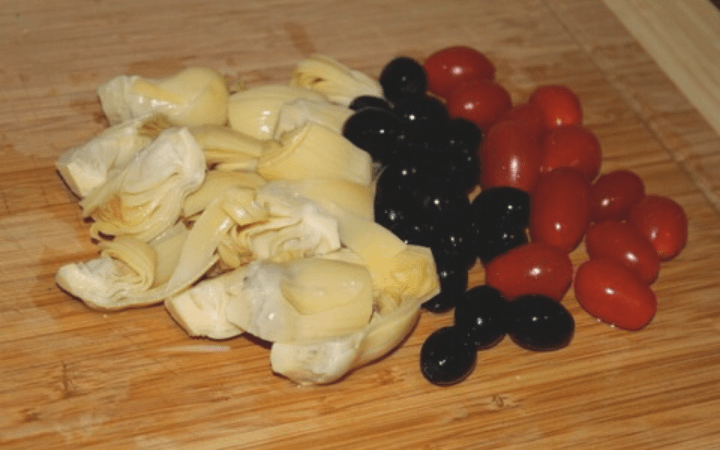 After you've chopped the artichoke hearts, olives and tomatoes, you'll finely mince 2 cloves of garlic and some fresh basil.
Add all of the ingredients into a bowl, season with the crushed red pepper flakes, salt and pepper, and then toss with the reserved artichoke heart marinade.
You can eat this right away, but I recommend you let it chill in the fridge for at least 30 minutes before eating so that the flavors have a chance to blend together.
Substitutions, Tips & FAQs
If you want to customize this Artichoke Salsa, there are all kind of changes you can make to make it your own.
Some additions that I recommend are:
A couple tablespoons of capers
A finely diced small red onion
1/4 cup sliced green onions
1/4 cup diced roasted red peppers
1 small Jalapeno, minced (if you like a kick!)
1/4 cup shredded Parmesan cheese or crumbled goat cheese
1/2 cup diced, roasted Eggplant
1/2 cup diced cucumber
Can I make this recipe ahead of time?
Absolutely! And I highly recommend that you do. It just gets better the more the flavors mature. It will stay good in the fridge for up to 5 days. I do not recommend freezing.
Do I have to use fresh basil?
I know it can be difficult to fresh basil, especially depending on the time of year. You can definitely swap the fresh for a teaspoon of dried.
However, if you do swap, you'll lose the pretty green that looks so nice throughout the salsa. If that matters to you, you can add a tablespoon of fresh, minced parsley along with the dried basil.
Can I use regular canned artichoke hearts?
I personally think the the marinated artichoke hearts are the star of the show here. But, if you're not a fan or if you can't find them in your grocery store, you can use regular, canned artichoke hearts in a pinch.
If you use those, mix together a quick vinegar-lemon fusion to stir in to the salsa.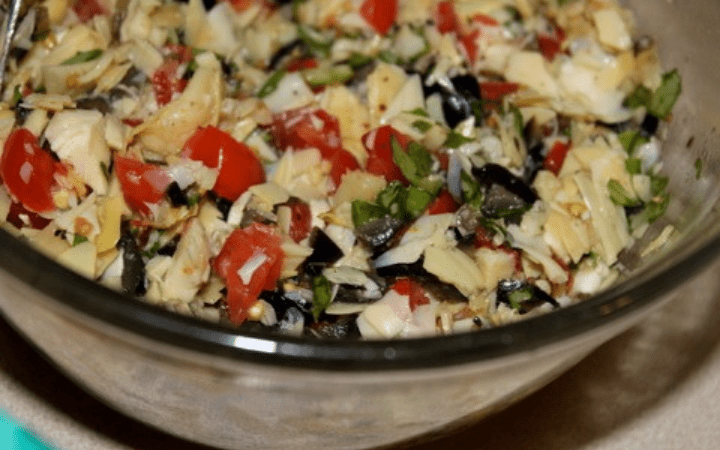 Just combine 2 teaspoons white wine vinegar, 2 teaspoons lemon juice, a pinch of salt, and 1 tablespoon water. Whisk together until blended and then stir into the Artichoke Salsa in place of the reserved artichoke marinade.
What should I serve with artichoke salsa?
There are lots of great options that work as "vehicles" for this salsa! Some tried-and-tested options are:
Fresh pitas, quartered
Pita chips
Tortilla chips
Pretzel thins
Toasted Italian bread slices
Water crackers
You can even stir a few spoonfuls into some cooked pasta for a quick and delicious pasta salad.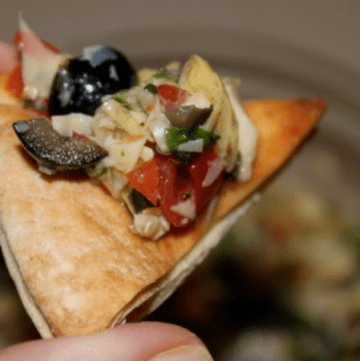 Artichoke Salsa
Try something different with this Artichoke Salsa recipe. It's a fun and tasty twist on the classic that makes a great appetizer or snack.
Ingredients
1 6.5

ounce

Jar marinated artichoke hearts

1/2

cup

Black olives

1/2

cup

Grape tomatoes

2

Cloves garlic

2

tablespoon

Fresh basil

1/8

tablespoon

Crushed red pepper flakes

Salt and pepper

(to taste)
Instructions
Drain artichokes, reserving 2 T. of the marinating liquid. Coarsely chop the artichokes, olives and tomatoes.

Place in a small bowl. Finely mince garlic and basil. Stir into bowl along with seasonings and reserved marinade.

Cover and refrigerate at least one hour before serving.
Notes
Mix up the basic Artichoke Salsa recipe my adding some capers, red onion, goat cheese, cucumbers, roasted eggplant, or any other add-ins that appeal to you.

Serve with pitas, pita chips, flatbread, tortilla chips, bagel chips, pretzel thins, toasted Italian bread, or water crackers.

If possible, prep the recipe at least 30 minutes before you plan to serve it so that the flavors have a chance to combine. 
The salsa will stay good in the fridge for up to 5 days. I do not recommend freezing.
More recipes you might enjoy: