Jump to Recipe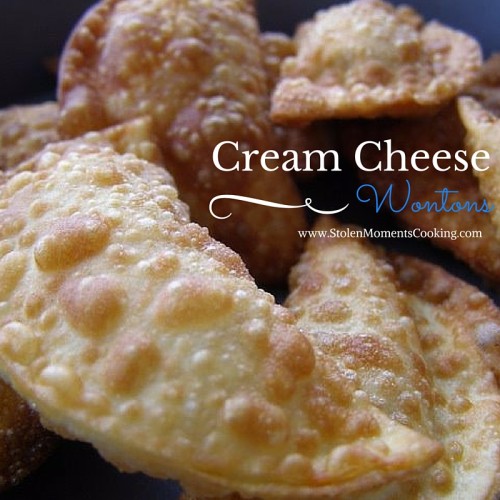 You'll never believe how easy it is to make your favorite Cream Cheese Wontons at home. Skip the Chinese take-out and fry up a batch of these in just minutes!
As far as I'm concerned, you can't go wrong with Wontons of any kind! Cream cheese, Crab Rangoon, Fried, Steamed… the options are nearly limitless, and all delicious.
If you feel the same, you might be surprised to know that the homemade versions of all of those options are nearly as simple as ordering take-out.
How do I make Cream Cheese Wontons?
The recipe for cream cheese wontons starts with 3 core components – the filling, the wonton wrapper and the oil for frying.
The cream cheese filling is very basic but packed with flavor.
Combine softened cream cheese with some sliced green onions, a splash of soy sauce and a bit of garlic powder. Easy peasy, right?
Next, you're going to spoon some of that filling into a wonton wrapper.
I like to use purchased wonton wrappers (usually found in the refrigerated area of the produce section), but I've heard that it's not too hard to make them homemade, if you're so inclined. Check out this Homemade Wonton Wrapper Recipe if you want to give it a shot.
Now, back to how to make these cream cheese wontons.
Measure out around a tablespoonful of cream cheese filling and plop into the middle of one wrapper.
Dip your finger (or a small brush) into a small bowl of water and then run around the edge of the wrapper. Fold wrapper in half to form a triangle (or half-circle, depending on the size of your wrapper) and press together. Use some more water if there are spots that are not sticking together.
After you have a wonton prepped, place it on a cookie sheet lined with waxed paper and cover with a damp paper towel. Continue doing this with each wonton as you work.
This step makes the process of frying the wontons much smoother as you're not going back and forth between prepping and cooking. The damp paper towel keeps the wontons from drying out.
How do I cook the wontons?
This recipe calls for you to fry the wontons.
Does the thought of deep frying scare you? I hear you! I used to feel exactly the same way.
However, you really don't need to be scared. Whether you're frying in a pot on the stovetop or in a deep fryer, it truly is easy.
All you have to do is heat the oil until bubbles form around the handle of a wooden spoon. It takes about 5 minutes over medium-high heat to get there.
Then, use a slotted spoon to add the wontons to the oil. You can cook several at a time, just make you don't overfill the pan.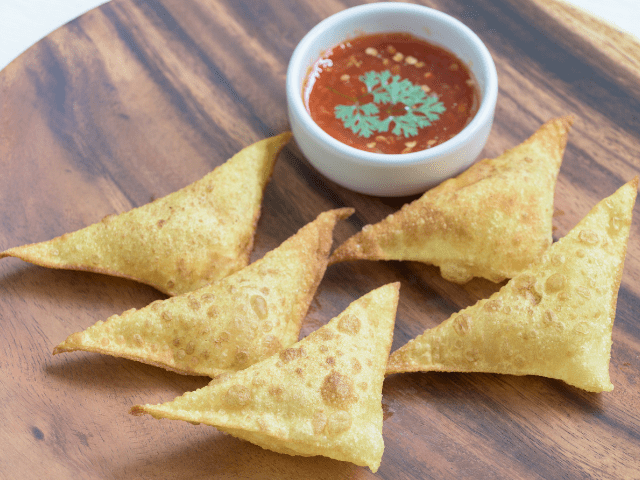 If you're using a deep pot or deep fryer, you will not need to flip the wontons.
If you're using a shallow skillet, you will need to flip them over.
Cook the wontons until they are golden brown (about 3 minutes) and then move to a plate lined with paper towels to absorb access oil.
Continue frying until done.
What should I serve with cream cheese wontons?
Cream cheese wontons are delicious on their own or as part of an appetizer spread. I like using one of the following dips:
Sweet chili sauce
Sweet & sour sauce
Soy sauce
Wasabi sauce
Choose your favorite sauce and have fun.
As a side dish or starter, cream cheese wontons go perfectly with any Chinese take-out fake-out meal that you make. Try them alongside my Pineapple Chicken for a delicious meal the whole family will love.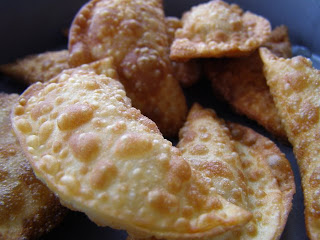 Homemade Cream Cheese Wontons
You'll never believe how easy it is to make your favorite Cream Cheese Wontons at home. Skip the Chinese take-out and fry up a batch of these in just minutes!
Ingredients
8

ounces

Cream cheese

(softened)

2

tablespoons

Sliced green onions

1

teaspoon

Soy sauce

1/2

teaspoon

Garlic powder

1

package

Wonton wrappers

Oil for frying

Sauces for dipping

(optional)
Instructions
Stir together the cream cheese, green onions, soy sauce, and garlic powder until well blended.

Spoon roughly 1-tablespoon of the cream cheese mixture onto the center of one wonton wrapper. Lightly wet the edges of the wrapper with water, fold in half, and seal. (Use a little extra water if needed to get a good seal.)

Fry 4 to 5 wonton at a time in hot oil. (I use a deep skillet, but you can use your favorite frying method.) Fry for about 5 minutes, flipping over halfway through, until golden brown and crispy.

Drain on paper towels and serve with your favorite dipping sauce(s), such as sweet chili pepper sauce, soy sauce, sweet and sour sauce, etc.
Notes
Serve cream cheese wontons with sweet chili sauce, sweet and sour sauce, soy sauce, or any other sauce you'd like.
Add chopped imitation or real crab to the cream cheese for an easy Crab Rangoon variation.