Topped with streusel and icing, this flaky Lemon Coffee Cake is bursting with flavor. The lemon filling makes it memorable.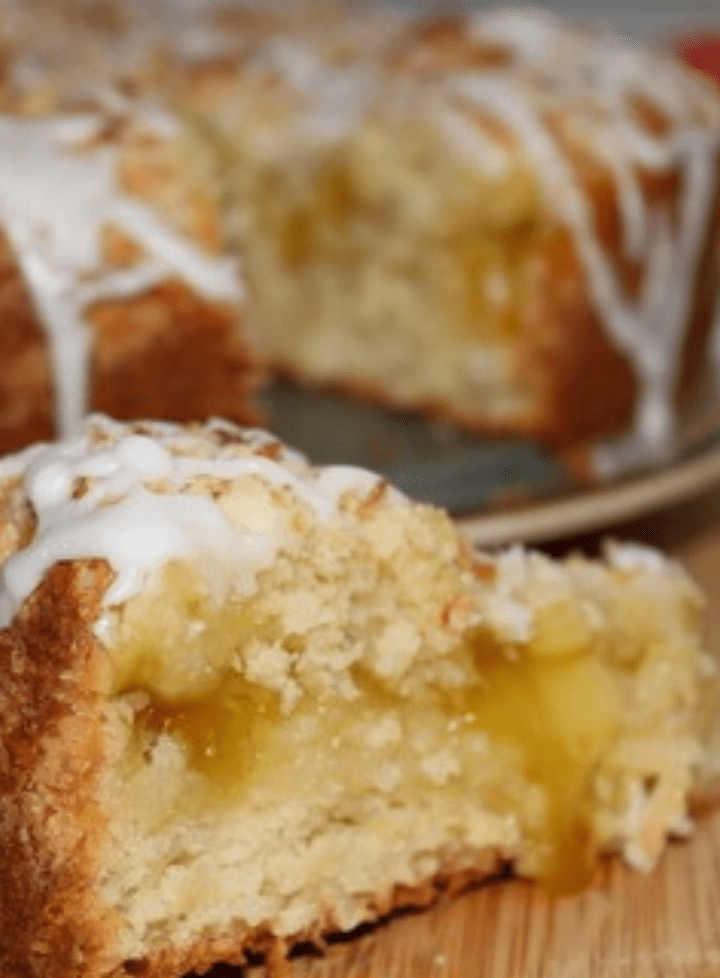 Is there anything better than a nice big slice of coffee cake and a cup of coffee? Whether for breakfast or dessert, it's by far one of my favorite culinary pairings.
I've been making homemade coffee cakes for years, but most of my recipes result in a final product with a more cake-like consistency instead of a flaky and tense texture like you'd get with a more traditional bakery coffee cake. However, after countless experiments and lots of trial and error, I'm thrilled to say that this recipe meets all of that traditional bakery-style coffee cake criteria!
How to make Lemon Coffee Cake
You might think that making homemade coffee cake requires hours of time, but that's absolutely not the case. I'm proud to say that this recipe is very easy to put together. I wouldn't necessarily call it "quick," but I think you'll be pleasantly surprised by how little time commitment is required.
There are four main components to this recipe – the batter, the filling, the streusel and the glaze. The filling is canned, so only the batter and toppings require any hands-on work for you.
To start, prepare the coffee cake batter by combining the dry ingredients and then stirring in the other ingredients. I highly recommend just stirring by hand to make the batter. Using a stand or hand-held mixer makes it too easy to over-mix, and you definitely don't want that here.
Next, cut together the streusel ingredients. Set aside.
Once the streusel is done, you're ready to assemble the coffee cake. Begin by greasing and lightly flour-ing a Springform Pan. Then pour half of the cake batter into the pan. Sprinkle half of the streusel on top, spread on the lemon filling, and then cover with the remaining half of the batter and streusel. Bake at 350 degrees for about an hour.
Once the coffee cake is done baking, let it sit in the Springform Pan for 10 minutes to cool. Then remove the pan and transfer the cake to a metal cooling rack.
Stir together the glaze ingredients while the cake cools. Drizzle on top and then let the cake cool completely.
If you are impatient (like me!) and decide to cut into your coffee cake before it's completely cooled, the filling will be a bit gooey and runny. If you don't mind that aesthetic, you'll find the coffee cake tastes absolutely delicious that way. Otherwise, if you want the filling to firm up, make sure you let the coffee cake cool completely, at least an hour or two.
Can I use other filling flavors in this coffee cake recipe?
This is one recipe that's truly versatile. Play around with the fillings and have fun with it! Try cherry pie filling, raspberry preserves, cinnamon apples and walnuts, chocolate chips, or anything else that you can dream up. I've yet to try a filling that wasn't a hit with all of us!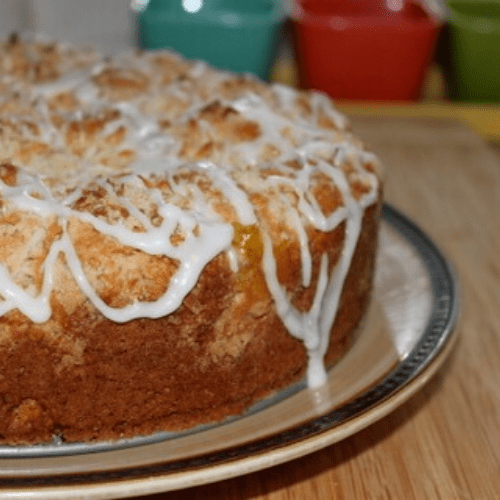 Coffee cake tips
Here are a few tips to help you make this Lemon Coffee Cake a winner in your household, too.
If you are not a fan of coconut, you can replace it with sliced or slivered almonds for the streusel.
You can skip the glaze if you really want…although I don't know why you would!
Make sure you let the coffee cake bake long enough. The top should be golden brown and dry. The standard "toothpick test" won't really work because of the filling, so pay attention to the top.
Even with the streusel, filling and glaze, the finished coffee cake is not too sweet.
Make sure that you use regular vanilla yogurt (full-fat, low-fat and fat-free versions are all okay) and not Greek vanilla yogurt. The Greek yogurt is too heavy and dense and it will change the texture of the finished cake.
I highly recommend doubling the recipe and making two coffee cakes. The second one makes an amazingly impressive and well-received treat for family members, friends and neighbors.
I would imagine you could freeze the coffee cake, but I have never tried that myself. If you do, please let me know how it works for you.
Other lemon recipes to try
I hope you'll try this Lemon Coffee Cake recipe today. I know you'll love it if you do. It is:
Impressive-looking
Easy to put together
Bursting with flavor
Perfect for gift giving
Great with a cup of coffee
Customizable
Flaky
Not-too-sweet
& delicious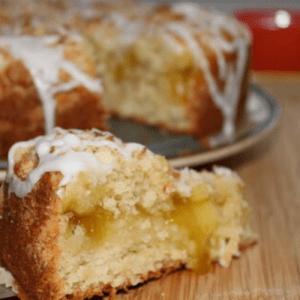 Lemon Coffee Cake
Topped with streusel and icing, this flaky Lemon Coffee Cake is bursting with flavor. The lemon filling makes it memorable.
Ingredients
For the Coffee Cake
2 1/4

c.

All-Purpose flour

1

c.

Sugar

1/2

t.

Baking powder

1/2

t.

Baking soda

1/2

t.

Salt

3/4

c.

Butter

(softened)

6

oz.

Vanilla yogurt

(NOT Greek yogurt. Full fat, low fat or fat free is fine.)

1

T.

Lemon juice

1

T.

Fresh lemon zest

1

Egg

1

c.

Lemon curd or Lemon pie filling
For the Streusel
1/2

c.

All-Purpose flour

1/3

c.

Sugar

3

T.

Butter

1/2

c.

Shredded coconut
For the Glaze
1/2

c.

Powdered sugar

1

t.

Lemon juice

1

t.

Water
Instructions
For the coffee cake
In a large mixing bowl, combine flour, sugar, baking powder, baking soda and salt. Stir to combine. Add remaining ingredients, except lemon filling, and beat until well combined.
For the streusel
In a small bowl, combine flour and sugar. Cut in butter until crumbly. Stir in coconut.
To assemble
Butter and flour a Springform pan.

Spread 1/2  the cake batter into the bottom of the pan. Sprinkle on half of the streusel topping and spread on the lemon curd or filling, to within a 1/2 inch of the edges. Spoon on remaining dough and remaining streusel.

Bake at 350 degrees for 50 – 60 minutes, until golden brown and set. Let cool for at least 10 minutes. Remove sides of pan, glaze (see instructions below) and continue cooling on a wire rack.
For the glaze
While cake cools, stir together powdered sugar, lemon juice and water. Drizzle on top of coffee cake and let cool completely.