Traditional scone texture meets tarty goodness. Mini Lemon Scones with Lemon Glaze are an elegant treat that's easy to make.
Jump to Recipe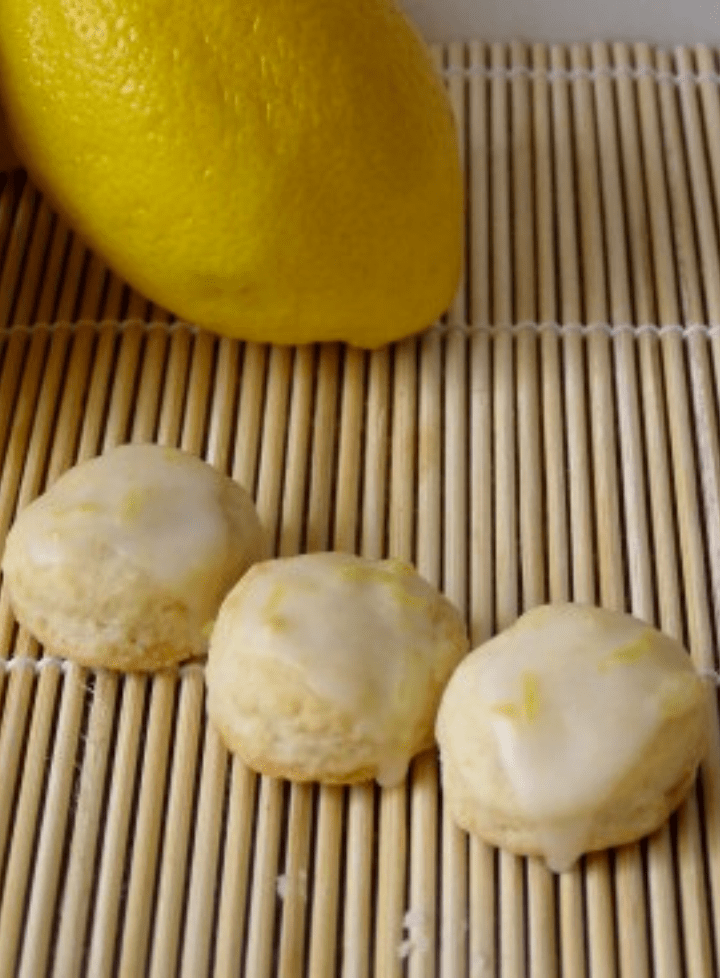 Lemon flavors are always a winner in our house and the pop of flavor in these scones definitely does not disappoint! You'll get tang in both the flaky scone itself as well as the simple (albeit non-traditional) drizzled glaze.
Although they look delicate and elegant, you'll be surprised by how easily this recipe comes together. You'll have a couple cookie sheets of mini scones ready to pop in the oven in just about 20 minutes.
How to make lemon scone bites
As with traditional scones, these mini lemon scones start with a basic pastry dough comprised primarily of flour, sugar and butter. The flavor gets elevated with the addition of both lemon zest and lemon juice added right to the dough.
Once the dough is assembled, it is kneaded briefly. You can proceed to roll it out and cut out your shapes right away, although I recommend letting the dough rest for at least 15 minutes first. This step isn't necessary but it does make the dough easier to work with.
After that, you roll out the dough and cut or press out your shapes. I did both – I cut out small triangles by hand and also pressed out small circles with a shot glass. The triangles look more traditional but the circles are cute and easy to pop in your mouth. The choice is yours!
While the scones bake, whip together an easy lemon glaze of powdered sugar, lemon juice and lemon zest. After the scones have cooled, drizzle on the glaze and prepare your mouth for a tart, tangy-yet-sweet treat.
How to store your freshly-baked scones
Scones are, by nature, a bit more delicate than other baked goods. Therefore, you'll want to make sure you store them properly so that they don't get soft and mushy (and lose their flaky, scone-goodness), before you get to enjoy them all. They might not last long enough to be stored, but just in case…
I recommend storing your cooled scones in either a glass dish (I like to use an 8×12 casserole pan) or plastic container with a layer of paper towel on the bottom. The paper towel helps to absorb any moisture. They will stay fresh and tasting almost like they just came out of the oven for 2 to 3 days with this method.
If you want to store your scones for a longer period of time, use the same method and then freeze. They will lose a bit of their traditional texture, but they'll still taste very nearly fresh-baked, at least in my opinion. If you want to make sure that fresh texture lasts, freeze the scone bites before you bake them and then cook and glaze the desired amount whenever you want.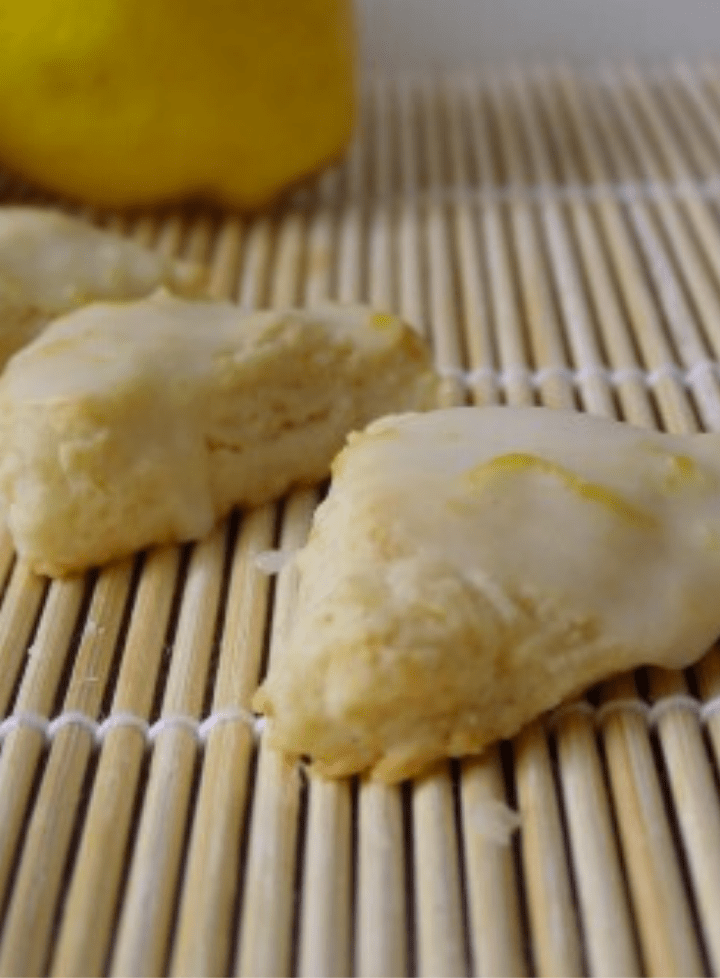 Can I substitute different flavors for the lemon?
You can absolutely play around with other flavors! Some other options to try include:
different citrus flavors (swap the lemon juice and zest for orange or lime juice and zest)
using vanilla or almond extract to replace all of the lemon
adding poppy seeds to the dough
use lemon in the scones themselves but then use vanilla, almond or raspberry extract to flavor the glaze
Can I make these lemon scones full-sized instead of bite-sized?
Yes, you can use this recipe to make full-sized scones instead of mini scones. To do that, just cut out full-sized triangle shapes and add about 3 to 5 minutes to the cook time. Instead of 2 dozen bites, you'll get about 8 to 12 full-sized scones.
Other lemon recipes to try
Whether you make these scones for your family to enjoy, for company, or to take to a baby or wedding shower, I know you'll love them. They are:
Sweet
Just the right amount of tart and tangy
Easy to make
Fun to eat
Elegant looking with being fussy
& delicious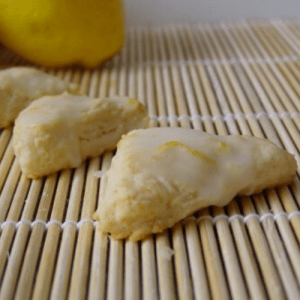 Mini Lemon Scones with Lemon Glaze
Traditional scone texture meets tarty goodness. Mini Lemon Scones with Lemon Glaze are an elegant treat that's easy to make.
Ingredients
For the Scones:
2

c.

Flour

1/4

c.

Sugar

1

t.

Baking Powder

1

t.

Baking Soda

1/2

c.

Butter

(cut into small pieces)

2

t.

Lemon Zest

(freshly grated)

1/4

c.

Lemon Juice

(freshly squeezed)

1/4

c.

Milk
For the Glaze:
1

c.

Powdered Sugar

2

t.

Lemon Zest

(freshly grated)

1/4

c.

Lemon Juice

(freshly squeezed)
Instructions
For the Scones:
In a large bowl, combine flour, sugar, baking powder and baking soda. Cut the butter pieces into flour until small crumbs (about 1 minute).

Stir the lemon zest into the mixing bowl. Combine the lemon juice and milk and immediately pour into the mixing bowl. Stir until combined and work dough into a ball. Knead 8-10 times. *Optional: Let dough rest in the refrigerator for at least 15 minutes to make it easier to work with.

On a well floured surface, roll out dough until it is about a 1/2" thick. With a knife, cut the dough into small triangles. Or, using a shot glass or clean medicine cup, cut the dough into small circles. Place on a cookie sheet and bake at 350 degrees for 12-15 minutes, until lightly golden brown on top. Remove to a wire rack and cool completely.
For the Glaze:
In a small bowl, combine powdered sugar and lemon zest. Slowly add just enough lemon juice until you reach the desired consistency for a glaze.

Spoon glaze over the cooled mini scones and let dry. Enjoy!