Rich, chewy and bursting with spicy-sweet deliciousness, this recipe makes cookies that taste just like Starbucks' Molasses Cookie.
Jump to Recipe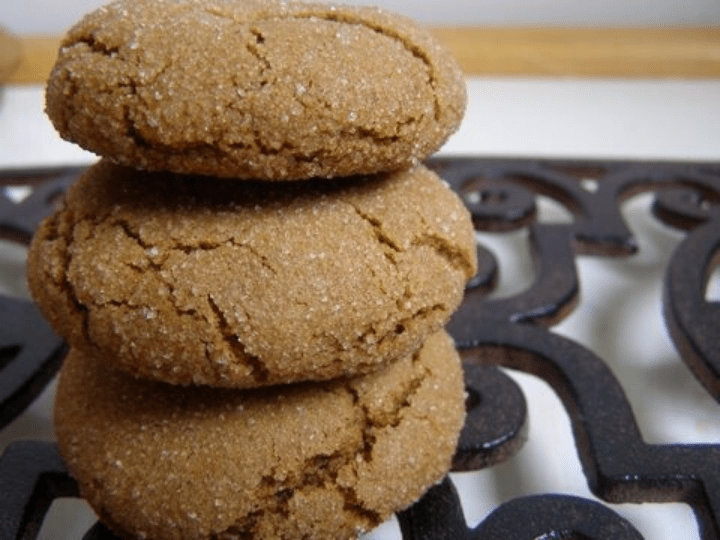 As any Starbucks fan can tell you, you go for the drinks but stay for the cookies and baked goods. Right?
If you, like me, are a huge fan of the Starbucks Molasses Cookies, you will absolutely love this recipe. From the texture to the taste, you can absolutely duplicate those well-loved cookies at home!
Ingredients for Starbucks Molasses Cookies
This recipe is actually very easy and comes together very quickly. To make these cookies, you'll need:
Butter or margarine
Brown sugar
1 egg
Blackstrap or regular molasses
All-purpose flour
Baking soda
Seasonings: cinnamon, salt, nutmeg, and ginger
White sugar
That's it!
Should I use blackstrap or regular molasses?
Both types of molasses work equally well in this recipe. Which one you use will not effect the texture in any way, but there will be a slight difference in taste.
If you decide to use blackstrap molasses, your cookies will have a richer and spicier taste. I think the flavor of the cookies is more like the Starbucks version with the blackstrap molasses.
If you prefer a cookie that's a bit sweeter without so much spicy depthness, go with regular molasses. My kids tend to prefer the cookies made this way as they feel the ones made with blackstrap molasses taste a little too "grown-up."
If you just can't decide, try the recipe both ways and see what you and your family like best!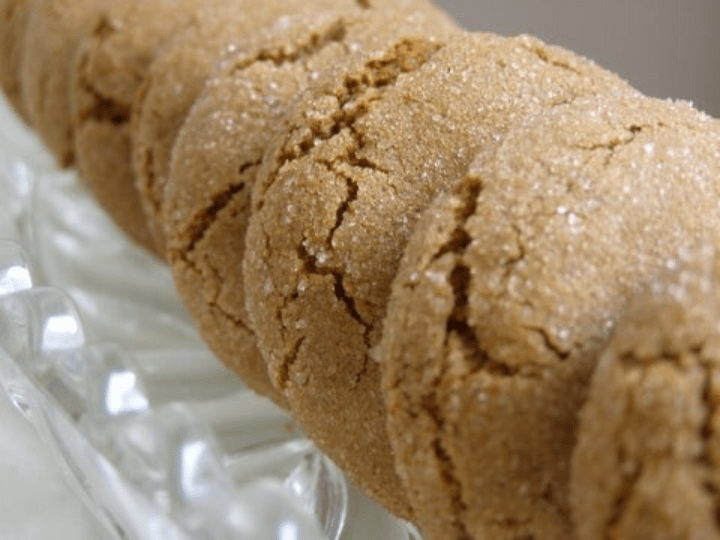 Can I freeze these cookies?
If you want to free your Starbucks Molasses Cookies, I recommend freezing the dough instead of the baked cookies. While you can freeze the baked cookies, I think they lose a little in both taste and texture when thawed.
You have two options for freezing the dough:
Shape the prepared dough into a ball or flat disc shape and place in a plastic freezer bag. Freeze. To use, thaw the dough in the refrigerator for at least 4 hours and then shape and roll in sugar before baking.
Shape the prepared dough into individual, teaspoonful-sized balls and roll in sugar. Place on a cookie sheet and flash freeze for about 30 minutes before transferring to a plastic freezer bag and placing back in the freezer. To use, place the frozen cookie balls on a cookie sheet (no need to thaw) before baking according to the instructions. Add 3 to 5 minutes to the original baking time.
The frozen dough will stay good for at least 3 months. You can probably freeze it for longer without any lose of quality but I can't say for sure; the dough has never lasted that long in our house!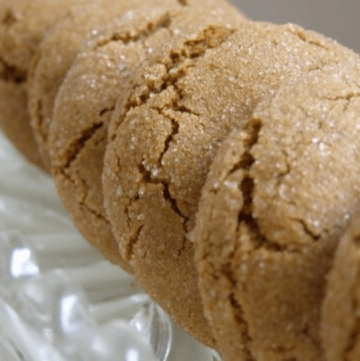 Copycat Starbucks Molasses Cookies
Rich, chewy and bursting with spicy-sweet deliciousness, this recipe makes cookies that taste just like Starbucks' Molasses Cookie.
Ingredients
3/4

cup

Butter

(or margarine)

1

cup

Brown sugar

1

Egg

1/3

cup

Blackstrap molasses

(or 1/2 cup regular molsasses)

2 1/2

cups

All-purpose flour

2

teaspoons

Baking soda

1

teaspoon

Cinnamon

1/2

teaspoon

Salt

1/2

teaspoon

Nutmeg

1/2

teaspoon

Ginger

1/2

cup

White sugar

(for rolling the dough in)
Instructions
Cream the butter or margarine and brown sugar together until fluffy. Add the egg and molasses and beat for an additional minute.

 In a small bowl, combine the dry ingredients. Sift or stir with a fork or whisk for 30 seconds.

Add the dry ingredients to the wet ingredients and mix just until combined. Cover dough and refrigerate for 1 – 2 hours, until firm.

Roll heaping tablespoons of dough into a ball, then roll through white sugar. Place on lightly greased or parchment paper-lined cookie sheets and bake at 350 degrees for 10-15 minutes.
Notes
This process will result in light, cake-like cookies. If you prefer crispier cookies, flatten the sugar-coated balls of dough slightly with your palm or the bottom of a glass.
If you are in a hurry, you can skip the chilling stage. However, be aware that the cookies will spread a bit more than they would if you use chilled dough.