Whether cutting the crusts off of your kids' sandwiches or for a specific recipe, you've likely found yourself wondering what to do with leftover bread crusts. You're in luck! Read on for 10 great ideas and recipes.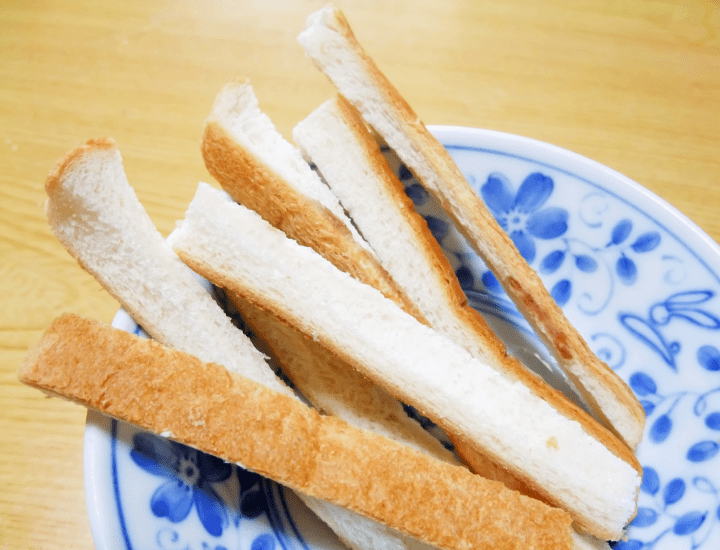 There are so many ways to use up leftover bread crusts!
I realize they might not be a common occurrence in every house, but I tend to have an abundance of them when making homemade uncrustables or our family favorite recipe of mini-blinis.
We also tend to have a lot of leftover "heels" from loaves of bread. So I collect those, cut them into strips and toss them in a plastic bag I always have in the freezer for just that purpose.
10 tasty ideas for using leftover bread crusts
I've experimented with many ideas over the years for what to do with leftover bread crusts. Here are my 10 favorite options.
#1 – Make homemade breadcrumbs.
This is probably the easiest option of all. Making homemade breadcrumbs with leftover crusts is a simple, three-step process.
Toast crusts in a 250 degree oven for about 2 hours, until they're completely dry and crispy.
Crush into breadcrumbs. To do this, you can either: a) put the toasted crusts in a large plastic food storage bag and crush with a mallet or rolling pin, or b) place the crusts into a food processor and pulse until desired consistency.
Store your homemade breadcrumbs in an air-tight container (metal or plastic works best) for up to 2 weeks.
I love to use homemade breadcrumbs in this Chicken Cordon Bleu Casserole.
#2 – Make homemade stuffing
This is another simple option. All you need to do is cut the crusts into smaller pieces (I usually stack them all up and cut into 4 or 5 pieces) and then toast in a 250 degree oven for about 2 hours, until completely dry and crispy.
Then, use in place of store-bought stuffing/dressing bread cubes to make homemade stuffing.
#3 – French toast sticks
Whisk together some eggs, milk and vanilla and stir in a few handfuls of leftover bread crusts. Stir to coat and then place the crusts individually onto a heated griddle or skillet coated with a little melted butter. Cook until done on one side (about 2 minutes) and then flip and cook on the other side (about 90 seconds). Easy, peasy and super tasty!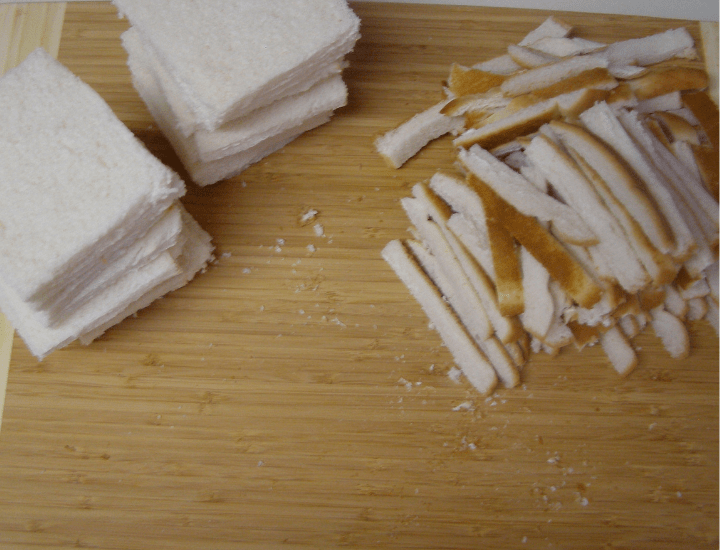 #4 – Use in bread pudding, baked french toast or strata
Use leftover bread crusts in place of bread cubes in your favorite bread pudding or strata recipe.
One thing to note if you do this – the taste will be exactly the same but the dish might not look as "full" and pretty as it does with bread cubes.
I've used bread crusts successfully in Berry Baked French Toast and Apple Bread Pudding.
#5 – Savory snack or croutons
To use this option, you can keep the bread crusts whole for a tasty, savory snack or cut them into fourths for croutons.
The basic method to do this is:
1/4 cup olive oil and/or melted butter for every 3 cups of leftover bread crusts
salt, pepper and your choice of any of the following spices and seasonings: garlic powder, paprika, oregano, dill, taco seasoning, chili powder, Italian seasoning, thyme, grated Parmesan cheese, etc.
Put all of your bread crusts in a large bowl and pour in the olive oil and/or melted butter. Sprinkle on your desired seasonings and toss to combine well.
Spread the crusts onto a cookie sheet and bake at 250 degrees for about one hour, until crispy. Enjoy!
#6 – Make cinnamon-sugar bread crusts
This is our all-time favorite way to use up leftover bread crusts! These are so good! They turn out flaky and crispy with just the right amount of sweet.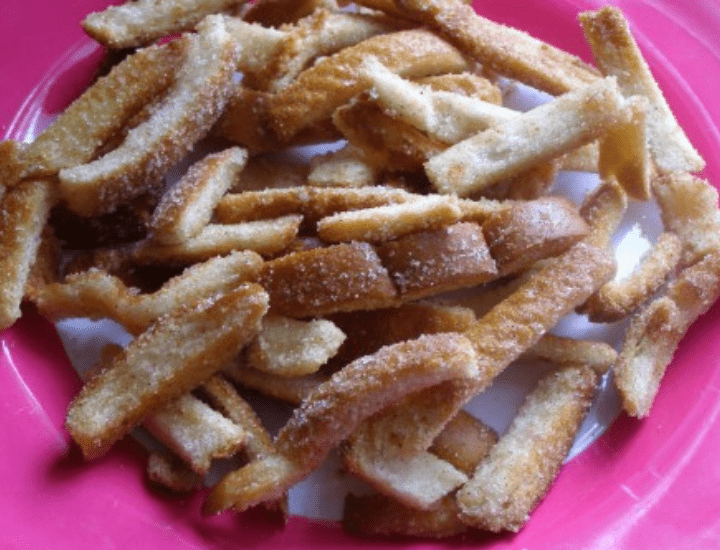 Cinnamon Sugar Bread Crusts
Crusts from one loaf of bread (roughly 5-6 cups of bread crusts or sliced bread heels) *thaw first if frozen
1/2 c. butter, melted
3/4 c. sugar
1 1/2 T. cinnamon
1. Place bread crusts in a large bowl. Pour melted butter on top. Toss to coat. Pour on sugar and cinnamon and toss to coat again. Spread onto a cookie sheet and bake at 325 degrees for 25-30 minutes, flipping at least once during the baking time, until golden brown and crispy.
We love these as a snack and they usually don't last too long.
However, they will stay good about 3-5 days in a metal cookie tin or plastic bag. (They'll retain their crispness best in a tin but they still taste great if stored in a plastic bag.)
Do you ever have extra bread crusts or heels of bread on hand? If you do, how do you use them?