Jump to Recipe
Hearty and comforting Chicken Spaghetti gets an upgrade from the classic recipe and ditches the canned soups without losing any of the convenience.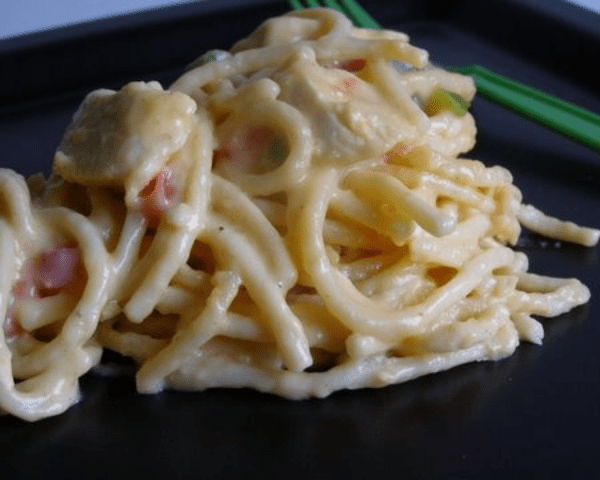 When it comes to comfort-food dinners, creamy, cheesy and filling are all words that come to mind.
Well, this recipe for Chicken Spaghetti has all three of those things in spades!
That's part of the reason why it's been a much-loved classic for years and years.
However, the original recipe relies on several processed, canned goods. Since we try to avoid canned items like that whenever possible, I wanted to re-create the recipe without them.
And the result is amazing! All of the flavors that make it a classic without any of the overly-processed cans.
How to make Chicken Spaghetti
This homemade version ditches the canned "cream of" soups and relies on a roux to make a creamy, cheesy sauce with a kick.
To make, cook diced green peppers in butter for a few minutes and then whisk in flower. Stir until the flour turns golden brown, and then slowly stir in milk and chicken stock.
Once the sauce has cooked and thickened to gravy consistency, remove from heat.
Next, stir in cheese, seasonings, diced tomatoes, and cubed, cooked chicken. Stir until cheese is completely melted. This is the sauce that makes the base of chicken spaghetti.
Combine cooked spaghetti with the sauce, toss to coat, serve and enjoy!
Can this recipe be made ahead?
I like to stir up the sauce for this recipe whenever I have time and then use it for a quick meal during the week.
The sauce will stay good in the fridge for 3 days, or indefinitely in the freezer. The longest I've ever had mine in the freezer was 2 months, but that's just because nothing lasts very long in this house.
It's an easy recipe to double or triple, so that makes it very convenient to add in to your meal prep plans.
Prepping just the sauce, and then cooking the spaghetti at dinner time will keep everything tasting fresh, and it will prevent the noodles from soaking up too much sauce or getting mushy in the freezer.
To reheat the sauce from refrigerated, pour it into a pot and cook over medium-low heat until warmed through, about 8-10 minutes. Then toss with cooked spaghetti.
To reheat the sauce from frozen, defrost overnight in the fridge or microwave on defrost for 5 minutes before transferring to the stove to warm up as above.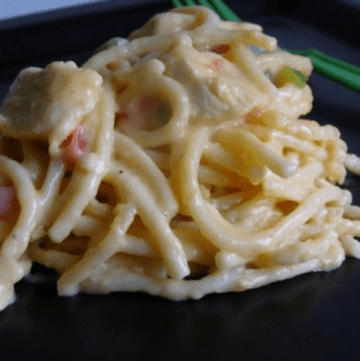 Chicken Spaghetti
Hearty and comforting Chicken Spaghetti gets an upgrade from the classic recipe and ditches the canned soups without losing any of the convenience.
Ingredients
1/3

cup

Butter or margarine

1/2

Green pepper

(finely diced)

1/3

cup

Flour

1 1/2

cup

Chicken stock

1 1/2

cup

Milk

3

cups

Shredded cheddar cheese

Salt and pepper

(to taste)

1/2

tablespoon

Cumin

1/2

tablespoon

Chili powder

1 8

ounces

Can diced tomatoes

(drained)

1

pound

Chicken

(fully cooked and cubed)

1/2

pound

Spaghetti

(fully cooked)
Instructions
In a large skillet or saucepan, melt butter or margarine over medium heat. Add green pepper and cook 2-3 minutes.

Add flour and cook an additional 2 minutes. Slowly add chicken stock and milk. Whisk or stir well to prevent lumps.

Bring mixture to a boil, reduce heat and simmer about 3 minutes, until slightly thicker than a gravy consistency. Remove from heat.

Stir in cheese, spices, and cubed chicken until cheese is completely melted.

Toss with spaghetti until combined. Serve and enjoy!
Notes
Adjust the spices as needed, depending on how much of a kick you want.
Replace the green pepper with jalapeno or diced green chiles if you want even more heat.
You can easily double or triple this recipe without any extra effort.
Turn chicken spaghetti into a vegetarian dish by omitting the chicken, or replacing it with chickpeas.
Other recipes you might like: