Whip up a batch of these Peach Oatmeal Muffins for a hearty and delicious breakfast or snack option. They're packed with fresh peaches, oats and a tasty mixtures of spices. The whole family will love them!
Jump to Recipe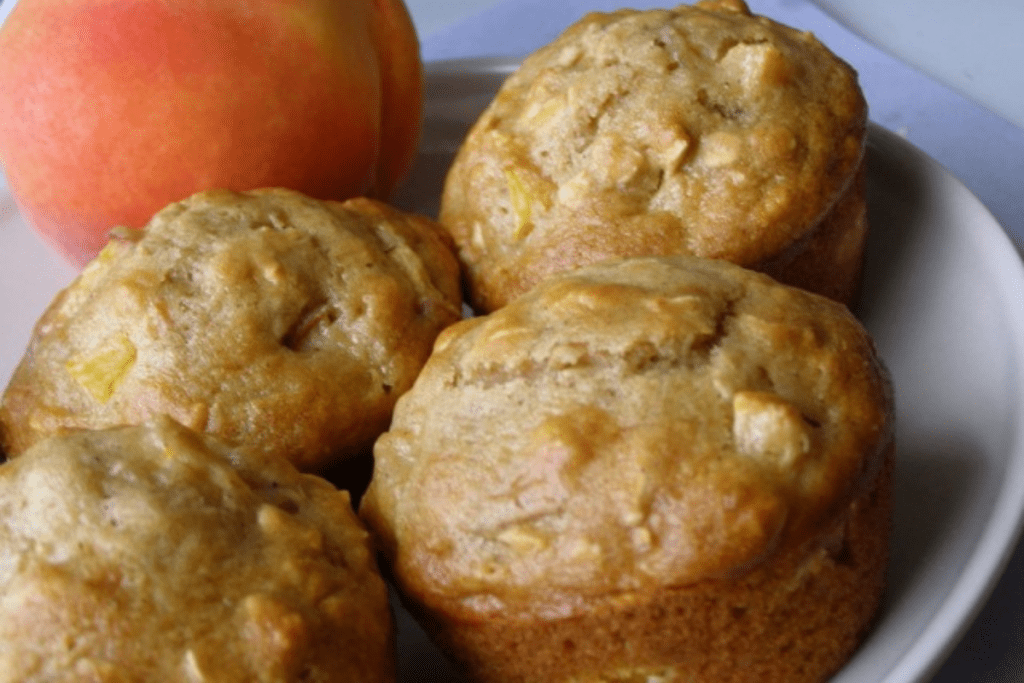 Homemade muffins are a perfect option for an on-the-go breakfast or afternoon snack.
These peach oatmeal muffins pack a healthy punch thanks to the addition or fresh peaches, oats, and applesauce as a replacement for nearly all of the oil. They also get an extra flavor boost from a spice mixture of cinnamon, nutmeg and ginger (similar to the spices in my popular Apple Spice Bars).
The final product is a moist and delicious muffin that's just bursting with flavor! Kids and adults alike will eat them up.
How do you make peach oatmeal muffins from scratch?
I feel like homemade muffins tend to get a bad rap since they seem like they'd be a lot of work. Honestly, I've found the opposite to true.
It takes less than 10 minutes to stir up the batter and the muffins bake in 20 minutes. That means you can be snacking on these tasty treats in under 30 minutes. Sounds pretty easy to me. What do you think?
Making peach muffins from scratch starts with a simple batter and makes use of applesauce as a substitute for some of the oil. This makes the muffins healthier while still giving them that classic, moist muffin texture.
Make the batter
The first step in this recipe is to combine the following in a large mixing bowl:
1/3 c. Brown sugar
1/3 c. Granulated sugar
1/3 c. Applesauce
2 T. oil
2 Eggs
3/4 c. Milk
2 T. Vanilla
I like to use my stand-mixer to make this process super easy – dump in the ingredients, turn on medium speed, and let it go for one minute.
If you don't have a stand mixer, it's just as easy with a hand-held mixer (blend on medium speed for one minute) or even by hand (stir briskly for 2 – 3 minutes, until everything is well combined).
Next, you're going to combine your dry ingredients in a separate bowl. Stir together flour, baking powder, baking soda, cinnamon, nutmeg, ginger, salt and oats.
Then you'll combine your dry ingredients with your wet ingredients and stir together for one minute. You can use a stand mixer or hand mixer for this step, but be careful to not over-mix. Over mixing will cause your muffins to be tough, so you definitely want to avoid that!
The last step is to fold in one diced peach just until combined. I do not peel the peach as I like the texture and extra pop of color that the peel provides, but you can peel yours, if you'd prefer.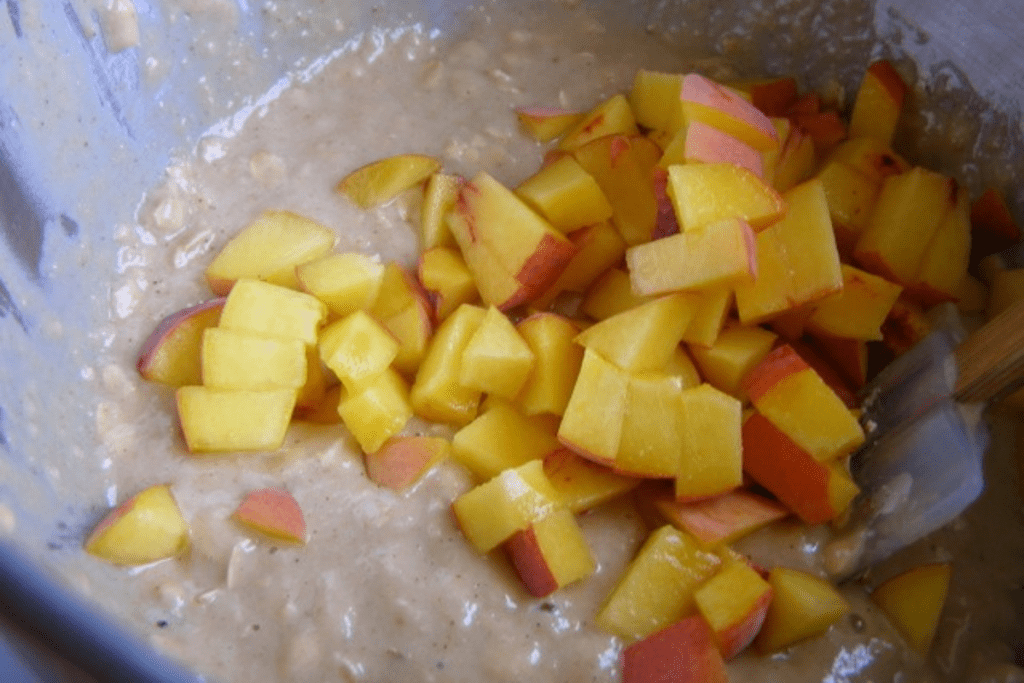 Once your batter is all stirred together, pour it into a greased muffin tin. This recipe will get you about 12 regular-sized muffins or 24 mini muffins.
Bake the muffins in a preheated 400 degree oven for 15 to 20 minutes, until they are golden brown and pass the "toothpick test." (i.e: a toothpick inserted in the middle of a muffin comes out clean)
How can I customize this recipe?
There are quite a few ways that you can customize this peach muffin recipe. One of the easiest ways to do that is with some additional mix-ins.
I've successfully stirred in the following additional ingredients with great success:
Chopped walnuts, pecans or almonds
White chocolate chips
Shredded coconut
Yellow raisins
You can also alter the spice measurements, or omit the nutmeg and/or ginger all together if you're not a fan.
Another great customization option is to top the muffins with a simple streusel topping.
To do that, just combine 2 tablespoons flour, 5 tablespoons sugar ,and 1/2 teaspoon cinnamon in a small bowl. Then cut in 2 tablespoons of butter with a fork or pastry blender until coarsely crumbled. Sprinkle the topping over the peach muffin batter after you've poured it into the muffin tin and bake as directed.
Similarly, I've also used topped them with this Maple-Brown Sugar Frosting and served as a dessert. It's a delicious combination!
FAQs
Can I use canned peaches in place of the fresh peaches?
Yes, you can used diced canned peaches in place of fresh peaches. If you do that, make sure to drain them very well before adding to your batter.
Can I use whole wheat flour in this recipe?
Absolutely! I've successfully made peach muffins from scratch using all white flour, all whole wheat, and a combination of both.
Can I make vegan peach muffins?
These muffins taste great when prepared with vegan substitutes. To do that, you will need to replace the eggs and milk with a vegan alternative.

For the eggs, I recommend replacing with a "flax egg" (1 tablespoon flax seed meal mixed with 2 1/2 tablespoons of water per egg replacement). If you're not familiar, here's a good flax egg tutorial.

For the milk, you can substitute either unsweetened almond milk or oat milk on a 1-to-1 basis.
Can I make these gluten free?
Make peach muffins gluten free by replacing the flour with an all-purpose gluten free flour blend or almond flour. Also, make sure that you are using gluten-free oats.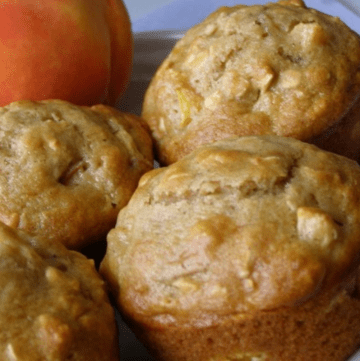 Peach Oatmeal Muffins
Whip up a batch of these Peach Muffins for a hearty and delicious breakfast or snack option. They're packed with fresh peaches, oats and a tasty mixtures of spices. The whole family will love them!
Ingredients
1/3

cup

Brown sugar

1/3

cup

Sugar

1/3

cup

Applesauce

2

tablespoons

Oil

2

Eggs

3/4

cup

Milk

2

teaspoons

Vanilla

1 1/3

cup

Flour

1

teaspoon

Baking powder

1

teaspoon

Baking soda

1

teaspoon

Cinnamon

1/2

teaspoon

Nutmeg

1/4

teaspoon

Ground ginger

1/4

teaspoon

Salt

1

cup

Oats

(quick or old-fashioned)

1

Large peach, diced

(about 1 1/2 cup)
Instructions
Combine the first 7 ingredients ( brown sugar, sugar, applesauce, oil, eggs, milk and vanilla)in a large mixing bowl and beat/mix until well combined.

Stir the dry ingredients together in a separate bowl and whisk/stir with a fork for a few seconds.

Slowly add the dry ingredients to the wet ingredients and stir just until combined. Fold in peaches.

Pour batter into greased (or lined) muffin tins and bake at 400 degrees for 15-20 minutes.
Notes
You can replace the fresh peaches with canned peaches, if you'd like. If you do, make sure that you drain the peaches completely before adding to your batter.
If you make mini muffins, check for doneness starting at around 12 minutes.
These muffins will stay fresh on the counter (well-covered) for about 3 days. If you'd like them to last longer, you can freeze in a plastic freezer bag and then thaw on the counter for at least 1 hour or in the microwave on defrost for about 25 seconds.